Weber
BBQ Cultures
For the 2015 bbq season Weber gave their customers more bbq stuff than you can shake your spatula at. In this immersive experience, we invite consumers on a journey through bbq cultures across the world; to discover, learn, and be inspired.
The challenge
How do we engage more than 20 markets across the EMEA region with different cultures, traditions, market conditions and media behavior with one campaign? And furthermore provide the consumers with the opportunity to engage with the brand? And in addition doing so without a large scale media budget.
The realization
To create a genuinely deep engagement with the audience we decided to leverage the one thing that they all could relate to: their love for barbecuing. Therefore our ambition was to provide a number of useful tools, learning and inspiration for grill enthusiasts around the world.
The solution
We build a digital content platform combining cinematic storytelling with the more functional aspects of the digital world. With an immersive digital experience at the heart of the idea Weber introduced a piece of innovative interactive storytelling. A piece that enables the users to immerse themselves into everything related to the art of grilling. From how to chose the right piece of meat, to the importance of timing visualized in an interactive environment making it possible for people to build on their grilling expertise in an engaging narrative.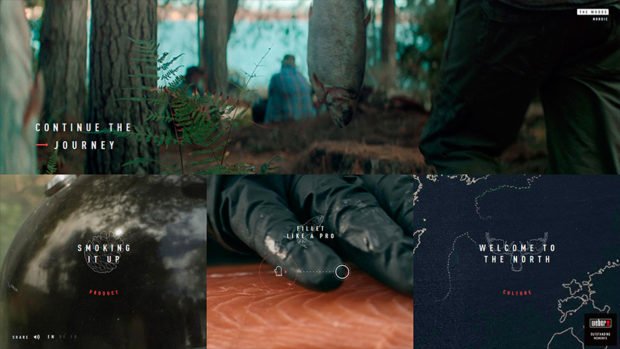 SaveSave
Famously effective
Four months after the launch visitors has passed 600.000 that in average has spent around 4 minutes each interacting with the content. Based on its performance at the Cannes we have high expectations that the Weber "Come on over" platform will prove to be famously effective work.
SaveSave
Awards & Mentions
Cannes Lions – Silver (1), Bronze (2) & Shortlist (1)
Awwwards – Site of the day & Site of the month
FWA – Mobile site of the day & Site of the day
CSS Design Awards – Site of the month
Adobe & FWA – Cutting Edge Award
Lovie Awards – Gold (2) & Peoples choice (2)
CSS Design Award – Website of the year
Eurobest – Silver (1) & Bronze (3)
Epica – Silver (2)
Awwwards – Site of the year
Young Gun Awards – Finalist
Danish Internet Award (2)
The One Show – Gold (1) & Bronze (1)
D&AD – Wood Pencil (1)
Creative Circle – Gold (2)