Opel
Ride Comfortably
In 2016 we helped Opel launch their new station wagon, The Astra Sports Tourer. We decided to steer away from the classic slow-motion shots of drifting vehicles on mountain roads and created a product specially crafted for the crotch of Danish men. Introducing Ride Comfortably by Opel – The Astra Sports Tourer Collection.
The Challenge
Turns out that a station wagon is feared by most men. It is seen as a symbol of an intimidatingly grownup lifestyle. And when the logo on the station wagon says Opel, it makes the challenge even bigger. Because, unfortunately, there is no prestige in driving an Opel and the quality is in many people's opinion just as good as a lot of other brands'.
The Realisation
We decided to break the category and focus on something else than the car: The people – who happen to consider Opel as a boring brand. Launching a station wagon with this perception in mind is quite a challenge, so something out of the ordinary had to be done. By designing a physical product we could reach our target group in a completely new way. Not only by getting into their underwear drawer, but also by showing our support to the Danish men transitioning into adults.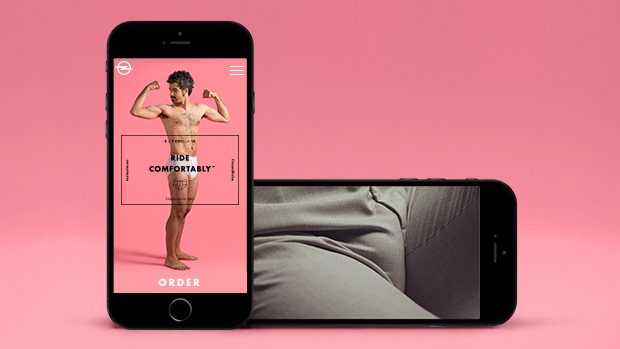 The Solution
During our research we discovered an interesting fact about Danish men: Their testosterone levels are lower than ever before. Quite a problem when launching a product that demands a lot from their confidence. Therefore we created Ride Comfortably by Opel – testosterone friendly underwear. Ride Comfortably was designed with inspiration from the design lines of the Sports Tourer, with comfortable features like the mesh structure – providing perfect ventilation for the male crotch and testosterone production. We created a unique identity for the underwear and treated them as a high-end fashion label. The underwear could be ordered online for free and shipped to your house.
Famously effective
The campaign was a huge success and it reached people all over the world, gaining 51.383.309 media impressions. The underwear was sold out in just a couple of days. But more impressive was the fact that 38.8% of people ordering the underwear also signed up to the Opel newsletter. The campaign had a return of investment reaching 675%. Compared to previous car launches Opel addressed people with a different kind of message and tone of voice, thus generating PR that spread from the global auto industry to general pop culture.
Awards & Mentions
ADC Cubes – Merit